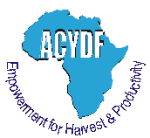 AIDS Prevention & Counselling Program

Africa Christian Youths Development Foundation is greatly involved in the HIV/AIDS awareness & prevention campaigns focused on secondary schools in Nigeria.

This is in response to the staggering current statistics released by UNAIDS, which indicate a high rate of infections among youths aged 14-25. In Sub-Saharan Africa, youths aged 15-24 currently make up almost a third of the 42 million people known to be living with HIV/AIDS.

The first case of AIDS was identified in Nigeria in 1986 and HIV prevalence rose from 1.8% in 1988 to 5.8% in 2001. Since 1991, the Federal Ministry of Health has carried out a National HIV/syphilis sentinel seroprevalence survey every 2 years. The 2003 survey estimated that there were 3,300,000 adults living with HIV/AIDS in Nigeria, and 1,900,000 (57%) of these were women. In the 2003 survey, the national prevalence rate had dropped to 5% from 5.8% in 2001.

However, it found that state prevalence rates vary from as low as 1.2% in Osun state to as high as 12% in Cross River state. Overall, 13 of Nigeria's 36 states had prevalence rates of over 5%. These figures give support to the claim that there are explosive, localized epidemics in some states. At 5.6%, HIV/AIDS prevalence rates are highest for young people between the ages of 20 and 24 compared with other age groups.

Nigeria's STD/HIV Control estimates that over 60% of new HIV infections are in the 15-25 year old age group. In 2005 it was estimated there were 220,000 deaths from AIDS, and 930,000 AIDS orphans living in Nigeria. There has been an alarming increase in the number of HIV positive children in recent years.

Africa Christian Youths Development Foundation works to advance adolescent reproductive health and HIV/AIDS prevention. Using the "Stepping Stones" approach, we focus on promoting behavioral change through facilitating discussions of HIV prevention and sexual health with community groups, including youth in- and out-of-school, clients at antenatal clinics, and general community meetings, dissemination of information on HIV/AIDS disease, its transmission, and prevention.