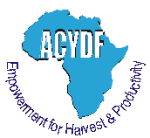 Our Vision

The Vision of the Africa Christian Youths Development Foundation is people transformed and empowered by Christian Principles and providing outstanding leadership, direction, healing and hope to a world that is broken and fragmented by sin. Our ultimate goal is to build a community-led planning and transformation process that encompasses crime reduction and prevention, employment, education and capacity, health, the enhancement of faith connections and the expansion of existing civic structures.

Micah 6:8 calls us to "do justice, love mercy and to walk humbly with God". This is our motivation to act in interests beyond our own self-interests, to care for and share with others. In line with the character of Jesus who calls us to follow his footsteps and to show concern for those trapped into harmful conditions by powers greater than themselves, the Scriptures invite us to be Voice to the Voiceless and to seek justice for the oppressed, the marginalized and the powerless (Proverbs 29:7, 31:8-9, Isaiah 1:15-17. 10:1-3, Mark 12:38-40).

We will do all in our power to influence governments and others in positions of power to make legislations and policies which lift up the poor, protect the vulnerable and make conditions possible for the rehabilitation of outcasts.

We will seek transformation and change at the deepest and most profound levels by working to touch people at the core of their values, beliefs, hopes, motivations and understanding of reality. Our ultimate goal is new men and new women, becoming more and more like the Lord Jesus and working to see their whole communities transformed by the power of his compassionate love and healing word.